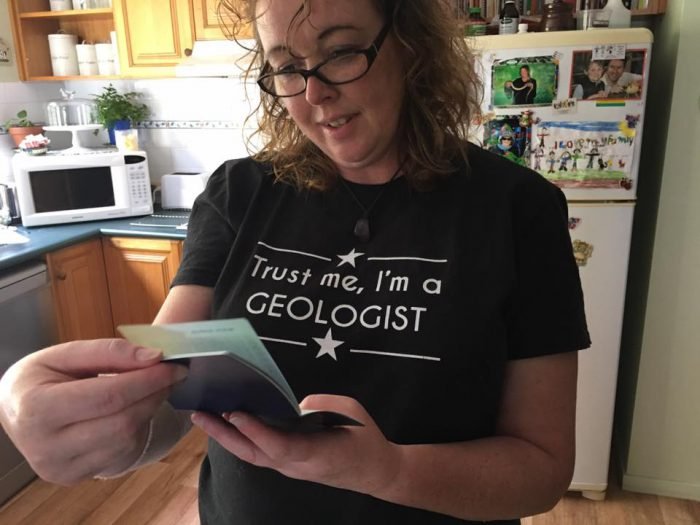 DAY ONE – AUCKLAND, NEW ZEALAND – I'M NOT IN AUSTRALIA…….
It's not like I've lived under a rock (excuse the pun!) but, I have never been outside of Australia in my whole life! While others were travelling Contiki tours, AB and I were married at 21 and having babies at 23! While others were building careers, I was looking after 4 children and juggling a job as a vet nurse. Don't get me wrong, I wouldn't change a thing! But to say that at the age of 43 I still didn't have a passport was somewhat strange……
So, when my Long-Suffering Mentor suggested we go to the AQUA conference (Australasian Quaternary Association) that was being held in Auckland, New Zealand, I said….."yeah, okay!"……actually……I jumped up and down squealing like a little girl whilst holding my hands between my legs to contain my pee….but that would be setting a rather undignified scenario for you…..so we shall just say I agreed, and applied for my passport!
Here is a picture on the day it arrived…..and no I didn't wear the shirt on purpose!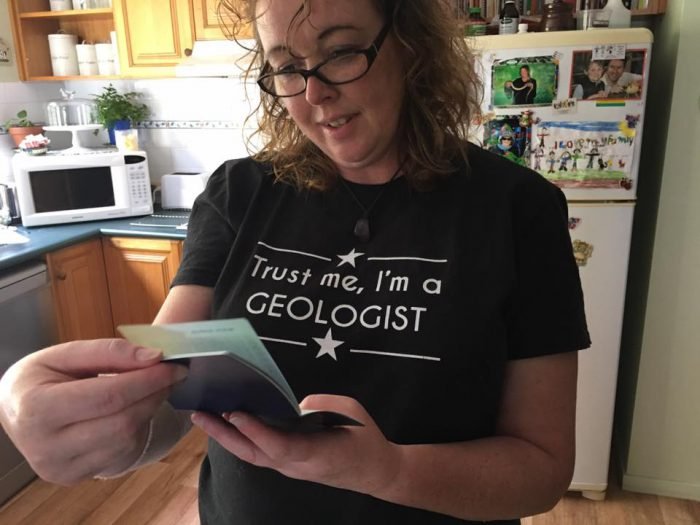 And so began our planning for my first EVER trip outside of Australia! The conference was for five days, starting with an ice-breaker on the Sunday night (which my Long-Suffering Mentor ALWAYS insists we go to!) and consisted of a jam packed itinerary including a mid-week field trip! Auckland is known as the city of volcanoes……SQUEEE!
But, what started as a "Let's go to this conference Bec, it's, like, really COOL AS!"….slowly became a "You can do a small presentation about your research"…..to then become a "Hey Bec, we've booked you in for a 20 minute speaker slot on Thursday morning!" So not only was I travelling outside of Australia for the first time, but I was speaking at an international conference whilst travelling outside of Australia for the first time……man, I was in BIG trouble!
So….our story begins…..
Planes are not a problem for me. I've been on them before. No biggie! I'm excited and raring to go! Make it through check in and security. And we wait to board the plane……this is the before shot…..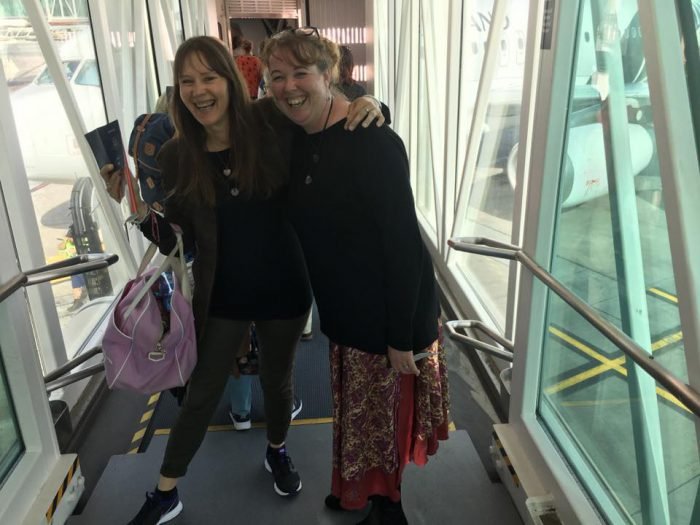 ….it's all happy and smiles until the turbulence begins……and three sickie bags later and I'm begging for the nice, pretty flight attendant to please take my dirty baggies and then kill me…..you don't want to see that photo…..
But, we arrived in Auckland safe and sound, made it through the arrivals and customs, only to realise, I didn't get a stamp in my brand, spanking new passport! So, I did what any 43 year old international travelling virgin would do…..I had a tanty! It didn't last long though as I was distracted by the fact that New Zealand number plates have no state names on them…..because…..well….New Zealand has no states…..wow……!
We arrived at our accommodation, a great two bedroom apartment that was immediately across the road from the University of Auckland where the conference was being held, in Old Government House to be precise! Old Government House is just beautiful, built in 1856 and restored to it's natural beauty. We attended the drinks and nibbles ice-breaker event and picked up our fun-bag for the conference (it had the best keyring thingy in it that has a USB key and a bottle opener built into it!), grabbed a glass of wine and made ourselves comfy in the chairs…..when this happened……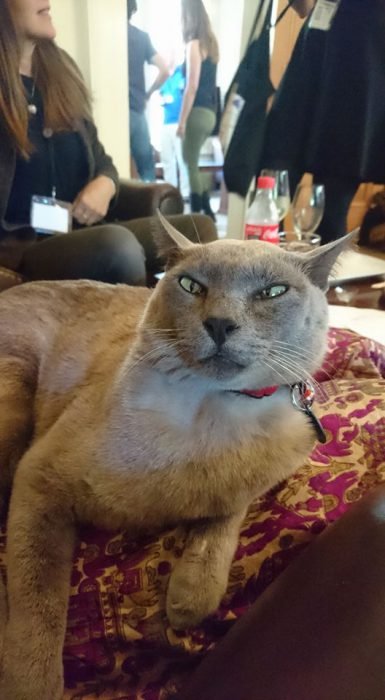 I swear I was just sitting there when this cat sauntered into the room and came and sat on my lap……so not wanting to bother the cat (who by the way is called Governor Grey and has his own Facebook page!) I sat and drank wine and watched everyone like some stalker sizing up her prey…….
So, having rubbed my face all over the cat for several hours, my Long-Suffering Mentor finally managed to drag me back to our apartment, being somewhat under the weather having consumed several glasses of wine on top of copious motion sickness medication (which DIDN'T WORK!)…….and I don't quite remember what happened much after that but I'm sure my first night in New Zealand was somewhat subdued…….